With Kona Boat Rentals you have the freedom to chart your own course to all of the best snorkel and dive sites along the beautiful Kona Coast. Hawaii has over 600 species of fish; 176 of them are found only here.
Avoid crowded snorkel spots. Discover secluded bays where you can plunge into and beneath Kona's gorgeous crystal clear, and warm tropical waters. Have fun seeing many of Hawaii's marine animals up close and in their natural environment. Often the visibility exceeds 100 feet.
For the snorkeler: We supply complimentary masks, fins, and snorkels with maps and tips to the best snorkeling locations
Divers can explore lava tubes, coral fields & play with the manta rays. The variety of colors and marine life is mind boggling.
For the diver:
* Lots of storage for tanks and gear
* Charts to moorings and the best dive sites
* Rental gear available
* Instructors and guides available upon request
If it's Whale and Dolphin Watching that you want then Kona Boat Rentals is the company for you. You can watch these fascinating marine mammals from the comfort of YOUR OWN BOAT! No need to crane your neck to see over the crowds on a tour boat. You will always have a front row seat!
​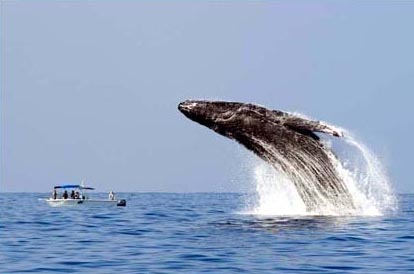 Do you like to take pictures? Stay as long as you like and record great lasting memories - great souvenirs that will last a lifetime!
Thar she blows!!!...
Humpback whales arrive from late October and stay until April each year. Whales being mammals breathe air just like all mammals. Humpbacks can hold their breath for up to 45 minutes but usually their dives last from 10 to 15 minutes in length. When they return to the surface they exhale through a blowhole on the top of their heads. These spouts can be seen from miles away and contain enough air to fill a balloon the size of a small truck. Some whales exceed 40 feet in length and weigh over 80,000 pounds! Experience the thrill and fun of seeing them in their natural environment. There are nine indigenous species of whale that live in Hawaii year-round.
Dolphins: There are many species of dolphin of which the Hawaii spinner dolphins are the most plentiful. Their playful and interactive behavior attract people from around the world. Many people visit the dolphins because they believe dolphins possess healing powers!
Fishing
Kona's fishing season runs 365 days a year and you do not need a fishing license - just a desire to have a lot of fun.
Land a big one! Blue Marlin, Black Marlin, Striped Marlin, Mahi Mahi, Ahi (Yellowfin Tuna), Ono (Wahoo) are just some of the big game fish that can be caught here in Kona. Some of the greatest sportfishing in the world is available along the Kona coast of the Big Island of Hawaii. Hook 'em up and keep your catch. Remember - even the worst day fishing is better than the best day at work! We can even clean your catch and ship your fish back home for you.
For the Fisherman we also rent:
• Penn rods and reels
• Species-specific lures
Boats Include:
• Fathometers
• Instructions
• All professional equipment
• Tri-beam fish-finders
• Huge fish box
• Keep your catch
We will also give you tips and locations for the best fishing spots along the coast. You Can Enjoy All The Fun With No Work (except landing the fish of course). No Hassles and no Cleaning. We will take care of everything for you. Call the most popular boat rental company in Kona, Hawaii. We sell FUN!
Sightseeing
• Spectacular coastal and mountain views
• Whale and dolphin watching
• Unique photography opportunities
• See the sites that interest you
Chart your own course to excitement and adventure as you explore the Kona coast of the Big Island. Hawaii has truly been blessed with beauty and unique and stimulating features that can be found nowhere else in the world. Enjoy the privacy and freedom of renting your own boat and reaching locations only obtainable by sea.
Explore private coves and stop for a swim, visit parts of the coastline that the cramped tour boats never get to, or eat a picnic lunch on a secluded beach far from the bustling crowds. Enjoy the sights of the Kona coast - volcanoes, palm fringed beaches, unique marine life, historical places like Captain Cook's monument or the Place of Refuge National Park, and much more.
Newlyweds can enjoy privacy and fun as they explore together.
For the Inexperienced Boater: "Boat Captain available for hire"
Leave the driving to us. Enjoy your day on the ocean with worry free security with our experienced boat captains.
Memorial Services:
"Burial at sea is a tradition that has been going on for as long as people have gone to sea."
Kona Boat Rentals offers a private burial at sea in the Pacific Ocean off the Kona Coast. We can arrange a ceremony which commemorates the loss of loved ones. We deeply honor the wishes of the family during a time of grief and any personal touches to the ceremony are incorporated in a sensitive manner. Services may be recorded by both video or still photos. Floral remembrances are offered at the site of the memorial. A commemorative nautical certificate stating the loved one's name, date, time, and exact location of the ceremony will be sent to the family. Our Captains are licensed by the U.S. Coast Guard and all of our vessels are U.S.C.G. safety certified. Kona Boat Rentals guarantees you a professional, affordable memorial service for your loved ones.